Recipes
Broccoli Stir-Fry
Use-All-the-Broccoli Stir-Fry
Spiralized broccoli stems transform into tender noodles in this lo mein-inspired vegetarian recipe. Serve on top of brown rice or buckwheat soba noodles.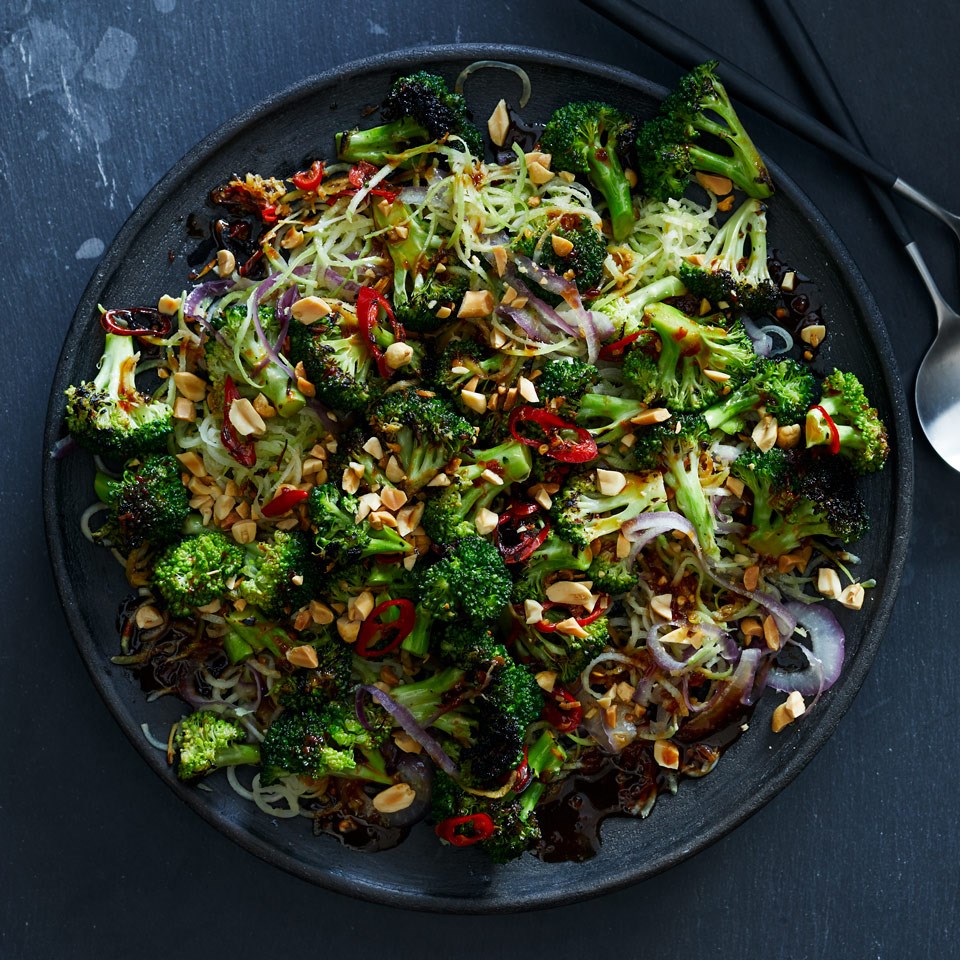 2½ pounds large broccoli heads with stems at least 1 inch thick (4-5 heads)

1 medium red onion

½ cup water, divided

2 tablespoons Shaoxing rice wine or dry sherry

2 tablespoons reduced-sodium tamari

1 tablespoon chile-garlic sauce

4 teaspoons toasted sesame oil, divided

2 teaspoons cornstarch

1 teaspoon light brown sugar

2 tablespoons peanut oil, divided

⅛ teaspoon salt

2 small red chiles, sliced (seeded if desired)

1 tablespoon minced fresh ginger

2 tablespoons chopped roasted unsalted peanuts
Preparation
Remove florets from broccoli stems. Cut the florets into 1-inch pieces and set aside. Trim the stem ends. Using a vegetable spiralizer with the thin-noodle blade, spiralize as much of each stem as possible. Chop any remaining stem into ½-inch pieces. Switch to the thick-noodle blade and spiralize onion.

Whisk ¼ cup water, rice wine (or sherry), tamari, chile-garlic sauce, 2 teaspoons sesame oil, cornstarch and brown sugar in a small bowl. Set by the stove.

Heat 1 tablespoon peanut oil in a large flat-bottom carbon-steel wok over medium-high heat. Add the broccoli noodles, stem pieces and onion; cook, stirring, until tender, about 5 minutes. Transfer the mixture to a large bowl and toss with the remaining 2 teaspoons sesame oil and salt.

Add the remaining 1 tablespoon peanut oil, chiles and ginger to the pan. Cook, stirring constantly, for 15 seconds. Add the reserved florets and cook, stirring, until starting to brown, about 1 minute. Add the remaining ¼ cup water, cover and cook until the florets are tender, about 3 minutes more. Uncover and add the reserved sauce. Cook, stirring, until the sauce is thick, about 1 minute.

Arrange the noodle mixture on a platter with the florets on top. Serve sprinkled with peanuts.
Nutrition information
Serving size: about 2 cups
Per serving: 252 calories; 14 g fat(2 g sat); 9 g fiber; 24 g carbohydrates; 11 g protein; 215 mcg folate; 0 mg cholesterol; 9 g sugars; 2 g added sugars; 5,109 IU vitamin A; 299 mg vitamin C; 150 mg calcium; 3 mg iron; 590 mg sodium; 1,066 mg potassium
Nutrition Bonus: Vitamin C (498% daily value), Vitamin A (102% dv), Folate (54% dv)
Carbohydrate Servings: 1½
Subscribe to get exclusive content on contests, deals, events and more!