Recipes
Vegan Party Board
Vegan Party Board
A dairy-free dip sets the tone for this vegan snack board. Rainbow carrots and crisp pear slices offer refreshing crunch and visual appeal, while an assortment of seeded crackers and mini toasts make blank canvases for spreads and jams. Blackberries and grapes lend a fresh and fruity finish.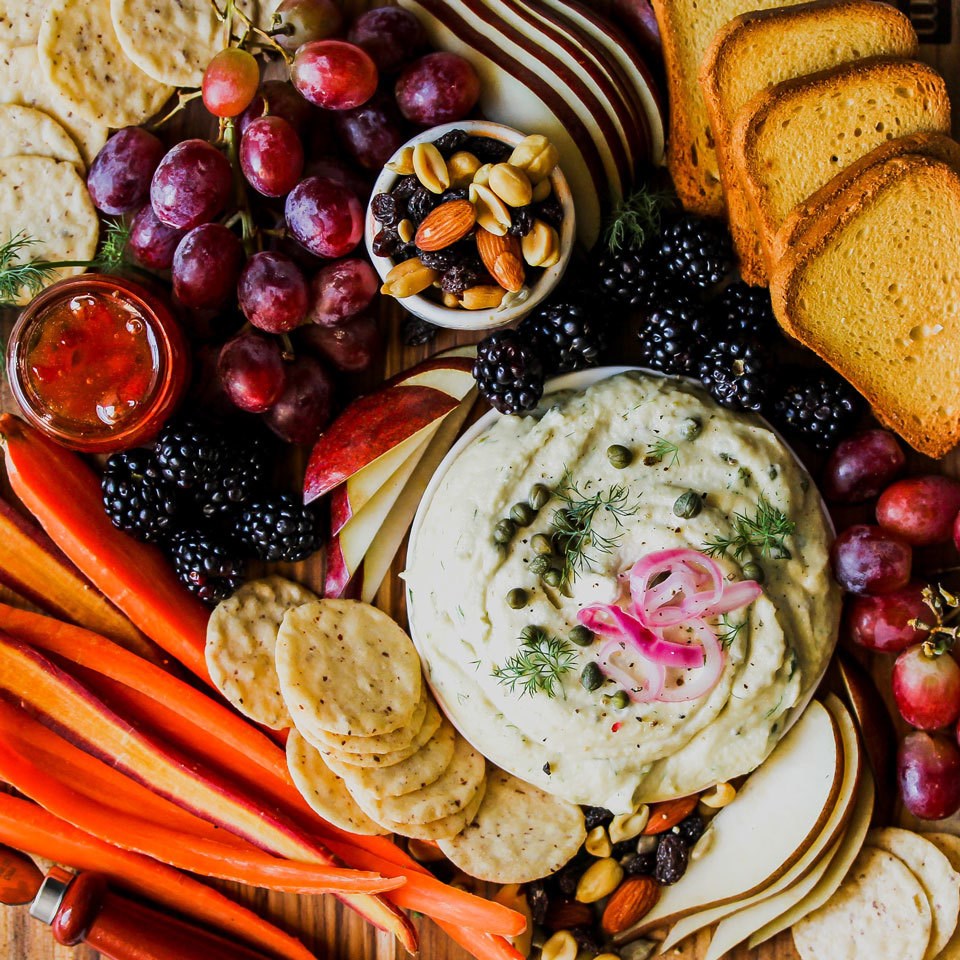 Ingredients – 16 servings
1 recipe Vegan Lemon-Dill Cashew Dip (see associated recipe) or 2 cup prepared vegan dip

6 large rainbow carrots, sliced lengthwise

24 seeded whole-grain crackers

8 slices mini whole-grain baguette, toasted (10 ounces)

¼ cup assorted roasted nuts or trail mix

¼ cup red pepper jelly

1½ cups berries, such as blackberries or raspberries

2 cups red grapes

Red, Green and Black Grape

1½ cups sliced pears or apples

3 sprigs fresh dill
Preparation
Place dip in a small serving bowl; arrange in the centre of the board.

Arrange carrots in one corner of the board, allowing them to hang slightly over the edge of the board.

Scatter crackers and baguette slices in three separate sections of the board around the dip.

Scatter a few nuts (or some trail mix) near the dip. Place the remaining nuts (or trail mix) in a small bowl on the opposite side of the dip.

Scoop red pepper jelly into a small glass jar and place it in the third quadrant of the board, creating a triangle with the bowls of dip and nuts.

Scatter berries, grapes and pear (or apple) slices in any open spaces on the board, filling in gaps. Garnish with fresh dill sprigs.
Nutrition information
Serving size: 2 Tbsp. dip, with baguette, nuts, vegetables & fruit
Per serving: 272 calories; 13 g fat(2 g sat); 4 g fiber; 35 g carbohydrates; 7 g protein; 19 mcg folate; 0 cholesterol; 10 g sugars; 2 g added sugars; 4,572 IU vitamin A; 8 mg vitamin C; 32 mg calcium; 2 mg iron; 374 mg sodium; 306 mg potassium
Nutrition Bonus: Vitamin A (91% daily value)
Carbohydrate Servings: 2½
Exchanges: 3 fat, 1 starch, ½ fruit, ½ vegetable
Subscribe to get exclusive content on contests, deals, events and more!